Tips and Tricks for Early Rising Toddlers + Your Chance To WIN Two Of Our Favourite Toddler Sleep Aids.
Early morning rising is a common issue and most families will experience this with their little ones at different stages. It is so incredibly exhausting when your son or daughter is starting the day far too early. It can really affect the tone of the whole morning and even the whole day. I often share on social media that one of my top tips for self care and filling my own cup is to wake before the boys and spend some quite time on my own before the boys start their day, and it truly makes the world of difference to every area of life, but I understand it is not easy to achieve if your day is already starting with your child before the sun has fully risen.

It is important to objectively assess what could be happening and often it does take some trial, error, persistence and consistency to help your little one sleep well and sleep in.

If your toddler is having difficultly with sleeping, we suggest to look at purchasing Program 3, of The Sleep Mama online programs. This program will be able to provide you with kind, gentle and proven methods on how to increase the quality of your little ones sleep during the day, night and early morning.

However, I also wanted to provide you with some useful tips and tricks of the trade, to help reduce your little ones early rising.
If your little one is waking early, I suggest looking at the below tips!
Avoid Offering Breakfast At This Time.
If you begin making breakfast or offering milk at this time, it is likely this will reinforce the early morning rising and the cycle will continue. Delaying breakfast until your preferred wake up time (6:30-7:30am) is a great way to help encourage your little one to sleep until later in the morning.
Allow Time For Them To Resettle Independently
Now, this will be trial and error, however if your little one is not distressed and just calling out occasionally, you can allow him to settle to sleep independently, see how long they will stay in their bed and if they will settle back to sleep independently.
Provide Re-direction
If your little one is immediately calling out and isn't happy with being left in their room, I would suggest to enter the room quickly and assisting your little one with a resettle. This may be providing some back pats and rubs, verbal instructions such as "it's still time to sleep" and some encouragement. Some toddlers will settle with this, while others may become frustrated or too engaged and won't settle.
Sleep Environment
Your toddlers sleep environment is incredibly important when it comes to encouraging quality sleeps and eliminating early morning rising.

Assessing your little ones sleep environment at the time of waking is beneficial as you may be able to catch the contributing factors.
Is there natural light peeping in?
+
Is the neighbour noisily leaving for work?
+
Are birds singing?
+
Are there morning alarms going off inside your home?
If you can objectively assess the room, you may notice little wake up triggers occurring around the same time and you can make adjustments and provisions to minimise their affects.
Total Sleep Time
It is also worth keeping track of how much sleep is occurring for your little one within a 24-hour period. For toddlers, we recommend having a total of 12-14.5 hours of sleep over a 24-hour period, which is inclusive of a day time nap and overnight sleep.
 
It is also normal for under-sleeping, or oversleeping during the day to contribute to early morning rising, so finding this balance is key. Program 3 can help guide you further on how to find this balance, increase the quality of day time sleeps and also guide you through how to find age appropriate wake times. When you do purchase the program, you also receive full and unlimited online support for the duration of your program, so we are able to tailor the program to best suit your little one.
Keep in mind, that biologically many children are set to wake between 6-6:30am, so implementing an appropriate bed time is also important.
Gro-Clock + Gro Anywhere Blinds
Some little ones may be waking early out of habit, or seeing that it is daylight and not understanding that it may still be very early morning. While following the above steps can help to reduce the early morning rising, it may also be beneficial to look at investing in a Gro-Clock.

These are a great way to help teach your little one when it is time to get up in the morning, or when it is time to go back to sleep. Having this simple and easy to understand visual aid also eliminates the need for you to get up and assist them back to sleep as everything they need is right in front of them.
`The Gro-Clock displays a sun when it is time for your toddler to wake up and a moon when it is still sleep time. You also receive a great little story time book along with the clock, that you can read with your toddle to further encourage and support their understanding of the different clock faces.

We introduced one into the boy's room when they were 2 years of age and they responded really well! They became excited over sleeping in until the sun was up and it also provided them great guidance about when to settle back to sleep, on the mornings they were a little too eager to start the day. The clocks are most beneficial to children over the age of two who can differentiate between colours and understand a bright yellow clock face is a signal to start the day. Where as a blue clock face indicates it is still 'sleep time'.
If you are having trouble darkening or blacking out your toddler room, then purchasing some quality blackout blinds is definitely a great investment.

It can be tricky to get these blinds installed, especially if you are moving, renting or constantly traveling, so having some portable and easy to set up blinds is incredibly beneficial. Gro Anywhere Blackout blinds are amazing and we have used these for the boys room since they were babies.

They are made out of a thick, luxe fabric which ensures your little ones room is as dark as possible, while also being easy to set up and take down, as the blinds are held in place by suction cups.

It is super convenient being able to pack these when we travel, so we don't have to worry about environmental factors disrupting the boy's sleep. They also provide some home comforts which further helps to settle them into new sleep environments.
We recently moved and it was great to be able to pack these with us, rather then having to invest in another set of binds and pay for the installation of the alternative.

If you have small windows, one blind will be perfect! However for bigger windows, you can easily place two or more Gro Anywhere blackout blinds across your window and not have to worry about custom ordering other alternatives.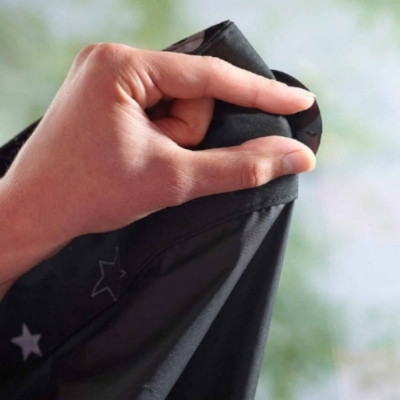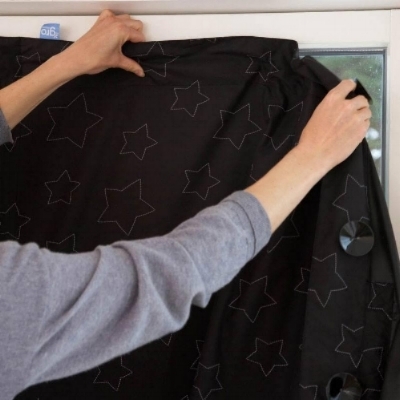 We have partnered up with GRO COMPANY to GIFT one lucky winner with a set of Gro Anywhere Blackout Blinds and a Gro-Clock !

To enter, simply follow these steps:

Step 1.
Simply head to our Instagram account @thesleepmama
Step 2.
Find the post about this giveaway and LIKE (double tap)

Step 3.
Tag two friends in the comment section and share with them why you follow @thesleepmama.
Step 4.
Enter as many times as you like!
The winner will be drawn at random on FRIDAY 22nd of December and announced via Instagram.
This competition is in no way affiliated or sponsored by Instagram. By entering the competition you agree to be over the age of 18.